Home
-›
POS-Systems
-› Delivery TakeAway POS
SplitAbility advantages:
Built in online ordering with fast.cafe.
Eliminate errors, check delivery addresses with integrated maps.


Address details automatically allocated to delivery receipts.
Delivery or pick up clearly identified on print dockets.


Takeaway prices & dine-in prices on the same button learn more.
Fast search on name, address, phone number, email or other details.
Retrospective order insertion - when the customer changes their mind.
Regular and favorite order completion.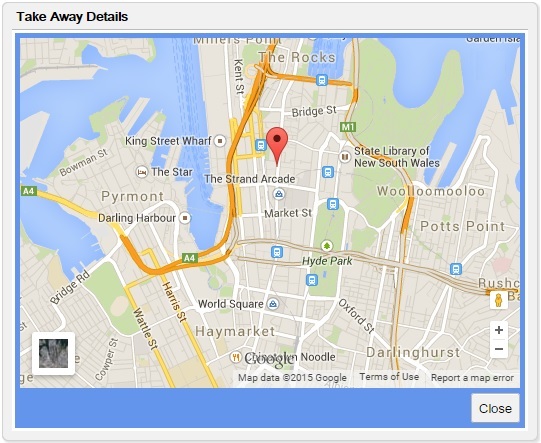 Integrated Google maps,
ensures delivery addresses are accurate.
TakeAway POS videos:
The guys at Perfecto Pizza keep the food order moving
when things get busy - July 2016.
Verifying delivery addresses during the ordering process eliminates
errors and a provides a quick location check.
Detailed delivery dockets.
Take-away and dine in prices on the same button.
Delivery or pick up options.
Address, phone number, email, other details on receipts.


Tabs and Accounts.


Integrated 'tap & go' payments, "pair" with any device.


Hot locking and fast user switching.
Customer focus:
Regular customers.
Customer loyalty.
Tab / Accounts.
Favorite orders.


Recipes and preparation instructions.
Order retrieval by search.
Privilege levels.


Inventory management and reporting.
Print separation on category.
Smooth efficient operation.
Coffee shops - Food trucks - Restaurants
Recent installs.
From notepads to iPads, Signature Tadka makes the move to a modern #POS. Great Indian food, check them out at 2/281 Sandgate Rd Albion #PoweredBySplitAbility.

Posted by SplitAbility POS on Saturday, May 20, 2017
The team at Dove Cafe Deli keep the orders flying with a multiple tablet solution.St. Antonious & St. Paul Coptic Orthodox Church29 Bolton St.Guildford NSW 2161

Posted by SplitAbility POS on Thursday, January 14, 2016
"We love using SplitAbility on our iPads,
it's so simple and efficient. Great for quick promotions!" "It helps us grow our business.
Fantastic for Take Away and Delivery."